Choosing Soft Serve Ice Cream Machines/Ice Cream Roll Machine/Commercial Ice Cream Machine
Views: 1 Author: Site Editor Publish Time: 2022-07-27 Origin: Site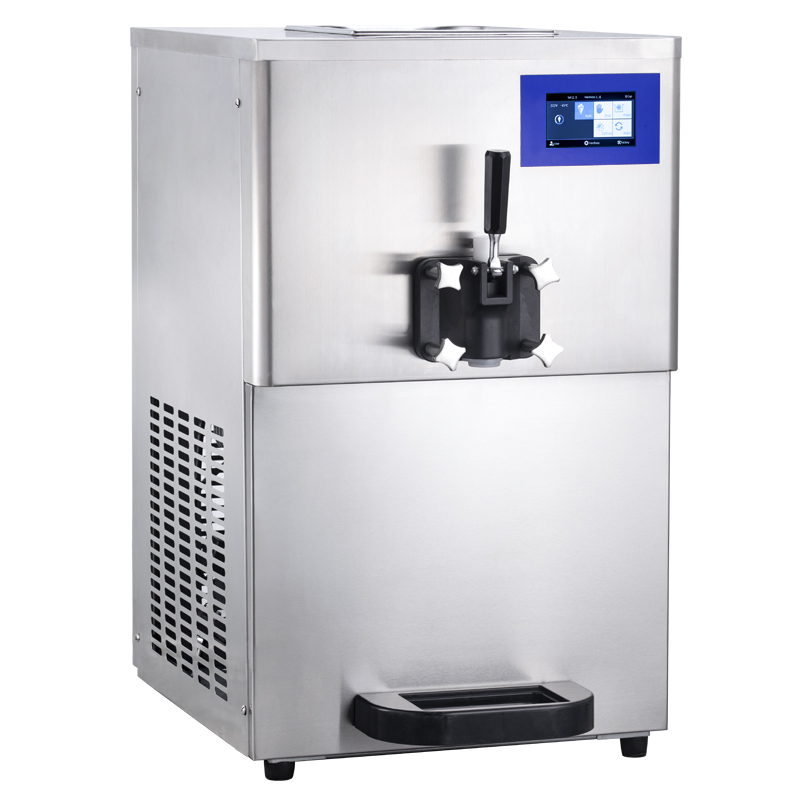 An ice cream roll machine is a kitchen appliance that allows players to make ice cream.The best ice cream roll machines can handle various ingredients such as yogurt, fruit juice, milkshake, and more. This means that they can make several kinds of ice cream, smoothies, slush, and ice porridge. A fry ice cream roll machine has all the features necessary to make a variety of ice cream. They can also cope with different shapes and sizes of pans. They are also easy to use and require no additional tools.
When choosing an Ice Cream Roll Machine, consider the following aspects. The machine has a large cooling pan that is built-in with a copper pipe. It can chill products between -25 and 30 degrees. It features a powerful 280-watt compressor for even cooling. It is also made from durable, food-grade 304 stainless steel. Depending on your recipe, the ice cream can be ready to eat within 20-30 minutes.
When choosing an ice cream maker for your business, it is important to choose one that is easy to maintain. Some machines may require you to disassemble various parts or soak them in a sink. Others may require you to use specialty cleaning products that are expensive and not available in your area. It should also be easy to train staff on cleaning the machine. Below are some features to look for in a Commercial Ice Cream Machine. Listed below are some benefits of commercial ice cream machines.
- High quality materials: Commercial ice cream machines use food-grade stainless steel or PC to make sure that they are as safe as possible for your customers. Stainless steel and copper pipe radiator are ideal for use in commercial kitchens. They also are designed to be easily moved from one place to another. Make sure to research which one is best for your needs. And remember to follow the manufacturer's instructions, as well as those of the manufacturer.
- Batch production or continuous production: Some floor models are equipped with a refrigerated storage cabinet. This allows you to keep the product mix cold and minimize the frequency of refilling the hopper. Some models have a spigot on the side that controls the amount of frozen product being dispensed.
Soft serve ice cream machines come in many different sizes and styles, from countertop models to freestanding models that stand on a counter. Small service operations often use countertop models and refill them as needed. Self-service operations, such as sundae bars or buffets, will generally purchase larger freestanding machines. When choosing a machine, consider the space requirements and noise levels.
Depending on the amount of overrun you expect, you may want a pressure-fed ice cream machine or a gravity-fed one. Both have their benefits and disadvantages. Pressure-fed machines have a higher overrun rate, but are generally more efficient at handling small batches. Larger machines also require more maintenance. They may not be as versatile as smaller machines, but can be used for large parties. Regardless of which type of machine you choose, consider how much you'll use it.
Before purchasing a soft serve ice cream machine, consider the type of ice cream you plan to sell. You can choose between several types of Soft Serve Ice Cream Machines, depending on your budget, size, and projected sales. The type of ice cream you'll sell will help you determine the type and number of machines you need. When choosing a soft serve ice cream machine, you must consider several factors, such as the type of product you will be selling, how much space you have available, and what technology you want to include.
soft serve ice cream machines
commercial ice cream machine
ice cream roll machine